When Hollywood movies were still being made in Hollywood, finding a place to go "on location" was no problem. Hollywood simply went out to it's own backyard and started shooting. Welcome to the place that got "shot up" the most. The Iverson Movie Ranch. The place where "The Duke" just happened upon that certain "Stagecoach". The place where "The Lone Ranger" could be found riding up to his own rock. The place where such super heroes as "Batman", "Superman", and "Captain Marvel" first stepped out of the comic books and onto the silver screen. The place where Gene, Roy, Hoppy and Cisco, plus a hundred other buck-a-roos, all managed to keep us happy and on the right trail. It was even the place where an American President got into the act. From "death-defying cliff hanging" serials to "hard riding two fisted" westerns. For over 80 years, it provided the background for some 3,000 movies and TV shows. Only now, it's about to take center stage. Return with us now, as we take you back to those thrilling matinee days of yesteryear. The Iverson Movie Ranch Wild, Wild West Days.

--Written by Gragham Hill for the Wild, Wild West Days program.
Steve Stevens was one of a few honorees to have his bootprints, handprints and signature placed in the Iverson Movie Ranch Honor Courtyard. A few other honorees included Bobby Diamond, Neil Summers, Kenny Call, John Mitchum, Dennis Fimple, Elena Verdugo and Cliff Emmich, to name a few.
Congratulations to all of you!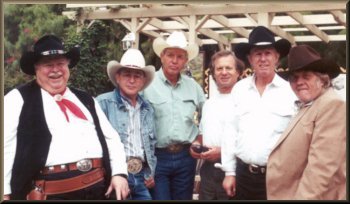 From left to right: Cliff Emmich, Steve Stevens, Kenny Call,
Bobby Diamond, Neil Summers (actor/stuntman), and Dennis Fimple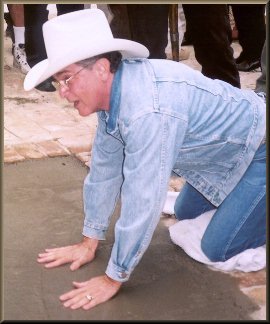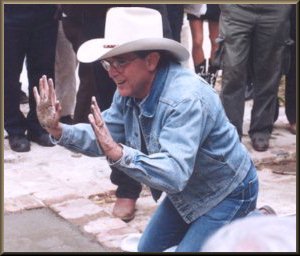 Smilin' Steve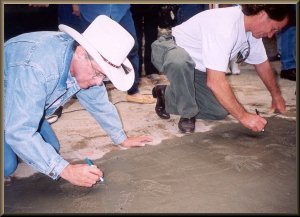 Two former child actors who had actually gone to school together.
Bobby starred in "Fury" which was filmed on the other side of the ranch.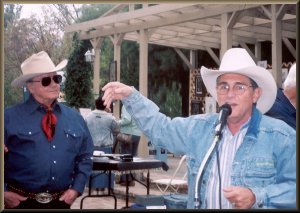 Steve tells how when he was sixteen years old, he was excited that he would be filming a "Roy Rogers" episode at this movie ranch. He spoke of how his stomach was a-turnin' and his hands were a-sweating as he drove up to the ranch. He was finally going to meet (and work with) his hero...Roy Rogers! But there was nothing for him to be nervous about. He said Roy and Dale made him feel at ease and he was appreciative and grateful for this honor so many years later. To Steve's right is Dick Jones, known for his "Range Rider" and "Buffalo Bill, Jr." series.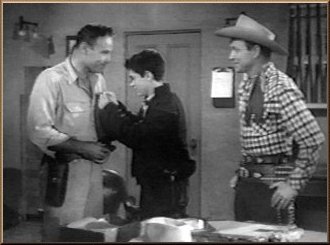 A screen capture of Steve with Roy Rogers and House
Peters, Jr. starring in the episode, His Weight in Wildcats.