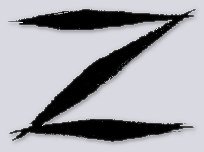 Zorro has had a substantial and distinguished film career. Three movie versions of The Mark of Zorro with Douglas Fairbanks (1920), Tyrone Power (1940) and Frank Langella (1974), a film called Zorro (1976) starring Alain Delon, a trio of serials and the latest, The Mask of Zorro starring Antonio Banderas, all constitute his screen incarnations. It was up to Disney to come up with the perfect blend of flamboyance, plot, characterization and action to make their hero a household name. They hired Hollywood verteran director Norman Foster, who had been active in the film industry since directing Gentleman of the Press in 1929.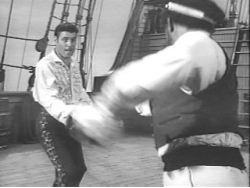 Casting for the part of Zorro presented a key challenge for Disney. The studio had decided to hire a relative unknown. The casting call went out and more than one hundred actors lined up for the screening process. Finally, the decision was made and Zorro would be a 33 year old actor named Guy Williams. They needed someone with swordsmanship ability because the swordfights were actually choreographed with real swords. Guy had been taking fencing lessons since he was a young man.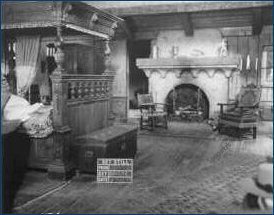 Disney studios had built the Zorro sets on their back lot which existed until about 1985.Where the sets once stood, there is now a parking lot that's named after the series. Zorro had its Disney debut on ABC on October 10th, 1957. There were 78 episodes altogether, all filmed in black and white. In 1992, the episodes were digitally colorized.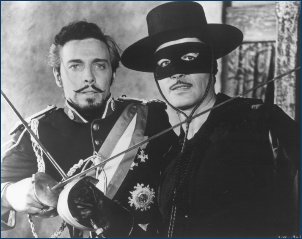 Posing by day as a mincing fop with no stomach for either commitment or violence, the young Diego de la Vega slipped into a black costume... cloak, mask, and hat by night to become Zorro, a swashbuckling vigilante who fought Spanish oppression in the New World. The target of his raids was the tyrannical commandanté Capitan Monastario, (Britt Lomond) and his portly aide, Sergeant Garcia (Henry Calvin). Zorro's calling card was a "Z", which he carved with his rapier on buildings, furniture and people. The hero's lair, secreted in the side of a mountain was maintained by the mute servant, Bernardo (Gene Sheldon).
Of the screen Zorros that history has judged to be classic, Fairbanks' was the most athletic. Williams' Zorro engaged in dramatic duels and frenzied chases, while he put meat on the bones of Zorro and Diego both. The result was that boys all over the country traded in their coonskin caps for the chalk-tipped plastic swords with which they slashed Z's on sidewalks and walls while in Zorro masks and capes. Although the series was gone after only two seasons, in 1960, two films were released. Zorro the Avenger and The Sign of Zorro which were a compilation of episodes from the series.