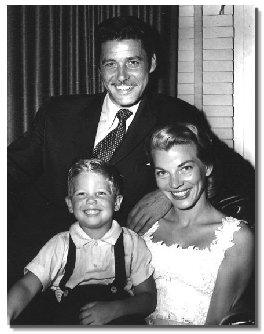 That pleased his father, who had hoped that Guy would join him in the insurance business. Guy, however, had other ideas. modeling and acting. He met his future wife, Powers model Janice Cooper, on a modeling assignment. "We had to look as if we were going skiing, and the big action of the ad came when I had to tighten my ski boots. The photographer shot this sequence about 50 times and by the time he had finished, I had got to know Janice pretty well." Not long afterward they were married. They have two children. Steve, 5 1/2 years old, and Lisa Antoinette, born May 14, this year.

In 1952, Guy was interviewed by Sophie Rosenstein, a Hollywood coach, and she recommended that Universal International Studios put him under contract. But before signing, he found regular acting work in New York's Neighborhood Playhouse and some television productions. Signing with Universal, he was under contract for a year but received no major assignment. Somewhat discouraged, he returned to New York to continue acting and do occasional modeling. He decided to try Hollywood again early last year and this time he got his "big break"," his testing for Zorro and his unanimous choice by the Disney Studios for the highly coveted role. Being of Italian parentage, he had the Latin appearance necessary.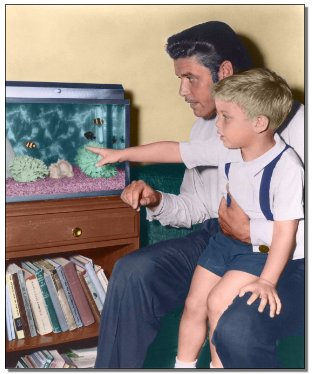 In spite of his protestations that he was an indifferent student in school, Guy is extremely well-read and can hold his own in any discussion on almost any subject. He is rated as an excellent chess player and has competed in tournaments against several of America's top chessmen. He is also an expert on tropical fish and at his Hollywood home, has a small aquarium with a variety of expensive little marine specimens. Guy is also a better-than-average cook. His specialty is an Italian dish called risotto a la milanaise, but he says his wife can prepare it better than anyone he knows.
For his role in "Zorro", Williams took guitar lessons from Vincente Gomez and received fencing training from the famed Fred Cavens, the same man who taught the two previous Zorros, Fairbanks and Power.
As a New Yorker, born and bred, Williams naturally wouldn't be expected to know much about horses. In one of his roles while in motion pictures, he was badly injured in a fall from a horse and still carries a long scar on his left shoulder as a result of the accident. However, that's a thing of the past. For "Zorro", he took long and intensive training in riding and getting acquainted with Tornado, the all-black quarter horse seen in his television films.
St. Louis Post-Dispatch. 1958.