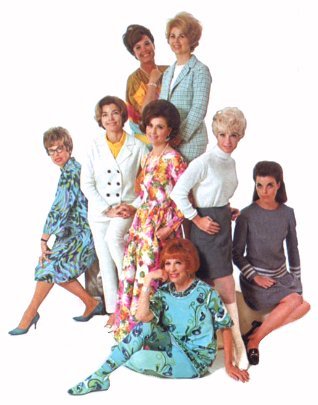 TV widows: On the floor in front, Mrs. Jim Backus, in the row behind her (left to right), Mrs. Buddy Ebsen,
Mrs. Guy Williams, Mrs. Dale Robertson, Mrs. Don Adams and Mrs. Larry Casey. Top, Mrs. Fess Parker
and Mrs. Bob Crane. Is it just me or does it look like Mrs. Adams is stepping on Mrs. Backus' hand?
The case histories of eight women widowed by the TV camera.
(Only Janice Williams is highlighted here.)
TV Widow (te ve wid o), a woman who has lost her professionally ambitious actor-husband
to a work schedule of 14 hours a day, five days a week, in the relentless grind of teleseries.
In the morning's first glimmer, TV Widow hears a jingle of coins as Actor-Husband scoops change off the dresser top. One eye partly open, she gets a fast peck on the cheek and a "See ya, sweetie!" Her day begins...alone.
Her young children never get to see their dad in the flesh. They're still asleep when he leaves in the morning. If Daddy's series has an early timeslot, they might catch an electronic glimpse of him before beddie-bye. They're asleep when he gets home.
After dark, Actor-Husband comes home too tired to talk. Often he eats alone on a TV tray. He has to learn his lines for tomorrow's shooting; he falls asleep over his script. So ends TV Widow's day.
How did this hapless creature "kill time" during her long hours of of spouselessness? To find that out, we set forth on a round of house calls:
Widow 1 (we find) is on a culinary kick. Up behind Grauman's Chinese Theater on a tree-shaped street in the Hollywood hills, in a tile-roofed house copied after one on the Riviera, we meet Janice Williams, TV widow of Guy Williams, the astro-physicist of Lost in Space.
They've been married 19 years. A former model, she's blonde and wearing an eight-button double-breasted linen pantsuit.
"We love to eat. I market every day. We have pasta two or three times a week and I make the dough myself. Guy's real name is Armando Catalano; his father taught me Italian cooking. Chinese food is our newest. I buy rice by the 10-pound bag in Chinatown. After dinner, Guy sits down with his script. He tells me, 'I know you're lonesome and I'm sorry.' "
Sandwiched between the day's food shopping and preparation, their teenage boy and pre-teen girl have to be chauffeured to parochial school, the home-grown kumquats have to be candied, and Guy's hobby photos have to be developed. "He doesn't have time for his darkroom work, so I'm down there three or four hours at a time. I like the chemicals."
On second thought, maybe Actor-Husband is the one who's killing time squandering his precious hours as "Professor John Robinson," "Mark Hitchcock," "Jed Clampett," "Thurston Howell III," "Daniel Boone," "Maxwell Smart," "Colonel Hogan" or "Ben Calhoun."
TV Guide - 1967