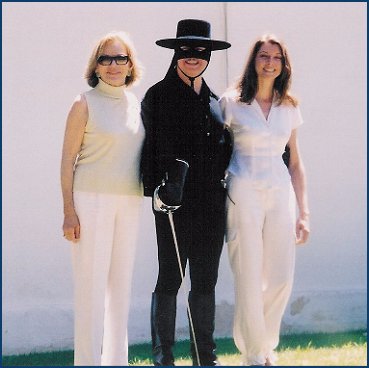 Oceanside, California


Fans of "Zorro," the Disney television series, traveled from across the country and around the world to the historic Mission San Luis Rey August 2nd, 2003 for a dedication honoring Guy Williams, the actor who played the title character. Guests were treated to a tour of the mission founded in 1798. The tour highlighted areas used in the 1950's television series. Some of the famous sites included the century old pepper tree and choir loft. With mission officials, members from the Friends of Guy Williams Fan Club coordinated this day of dedication to the late actor. In memory of Williams, the group also dedicated a bench that was placed in the mission's old cemetery.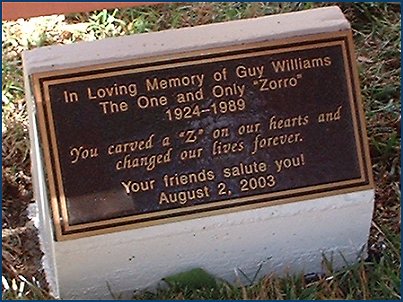 "When we heard there was only one spot left for a bench, we knew we had to get one memorialized for Zorro," one fan said. "We raised the money for the bench in only three months through our website. Fans from as far away as Italy donated. "I think it's wonderful. The bench will serve all people. It's a great way to show the history of the museum," said Father Ben Innes. The list of guests who attended the tour and luncheon included Guy Williams' family. Janice Williams, who married Guy in 1948, said the dedication flooded her with memories.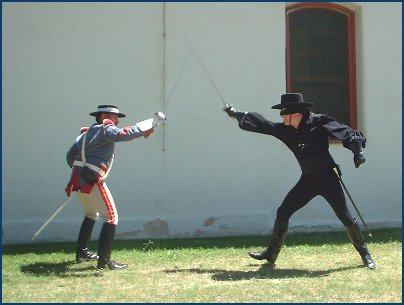 "It's sad that Guy is not here to have seen all this," Janice said. Toni, Guy's daughter, said the ceremony was like a family reunion because she remembered many of the same fans who were in Hollywood two years ago for Guy. They were instrumental in getting a posthumous star for him on the famous Hollywood Walk of Fame. The fan club also met Janice and her son Guy Williams, Jr. for a bench dedication for the late actor in Central Park in 2002. Guy was born in New York City.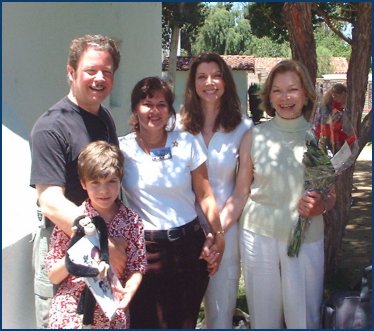 Janice said the ceremonies for her husband helped her feel closer to him. "I know he is around. To have so many good people gather from all over the world for him, I know he's here," she said. Toni said the dedication at the mission was moving and poetic. "It's special to be able to show my son who his granddaddy was", she said. Seven year-old Nando is said to take after Guy in many ways. Nando said he has watched many of his grandfather's films and wants his uncle to teach him how to fence like Zorro. Guy Jr., dressed as Zorro (owning part of the original costume worn by his father), re-enacted a sword fight with Corporal Reyes, played by good friend, Wendell Vega.