El Zorro Busca Departamento (Zorro Looks For An Apartment)
Palermo is the area preferred by Guy and Janice Williams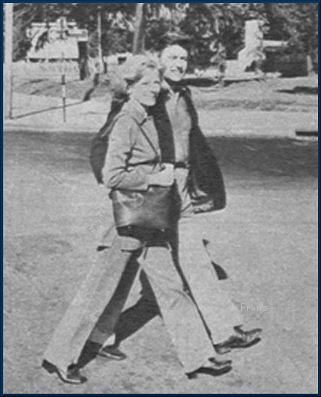 The outcome of the success of the series "Zorro", as interpreted by Guy Williams, is that Argentinian entrepreneurs have contracted with him for nearly all of 1978. Starting the first of January, he will be performing at the Circus Real Madrid of Mar del Plata, that will continue in Buenos Aires in the same way in the Liniers area. But his activities will continue even after that contract has ended. That is when he will film a movie in Salta and also when he will be on several TV shows. For all these reasons, it was logical that his wife Janice should be at his side, accustomed to the things happening now, and to maintain the marriage, then to look for a definitive place to live. "Here in the hotel, they treat me very well", expressed the actor when we encountered him, "but I prefer to live in a home. And by the way, after talking to you, we will go to various sites to try and find the right dwelling." This confession has changed our plans. We will accompany them in their search.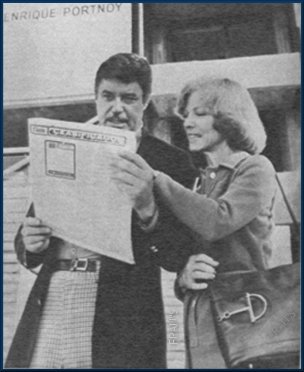 So, classified ads in hand, we began the journey. "We like the Palermo area, especially around Liberator Ave. In general, Buenos Aires has many beautiful places, but this seems to us very special and convenient for my work."

What is your home in the U.S. like?

"We live in a sporting area which could be compared to that area you call Boating Club in San Isidro," now added his wife.

By your description, the area that you prefer isn't equal to your U.S. residence.

"We have two motives", interrupted Guy. "First, as I told you, that it is most convenient to my work. Second, to live in San Isidro requires lots and lots of money."



What do your children Steve and Toni think about you possibly settling in Argentina?

"They understand. Besides, our stay will not be permanent. Plus, we might make a few trips to visit them, since their occupations do not permit them to visit. Steve is studying political science and Toni, art." The setting sun put a final end to the search and also to our talk. A sincere handshake sent us off from Guy and his wife, who remain with the responsibility of studying prices, places and convenience to find their proper home.
TV Guia 1978.
(Article and photos courtesy of whitefoxdomain.com. All rights reserved.)