El Zorro's Se Refugia En Esta Espectacular Guarida
("El Zorro" Takes Refuge In Spectacular Hideout)
He'll go back to Argentina next October and January to film a motion picture and appear in a summer show. Fears that his daughter will get to know our country.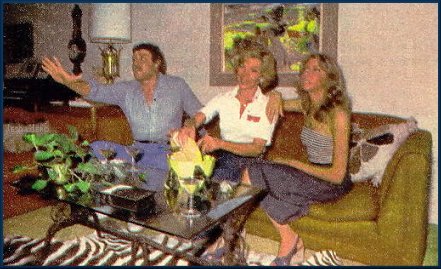 It's a great pleasure for us sent to fulfill the promise made to Guy Williams about a month ago in Buenos Aires, to visit him in his residence in Marina del Rey, the paradise located on the coast of the city of Los Angeles. Guy had already told us this was his real hideout where he, his family and friends seek refuge. [It is a] house built with the love that they who have Sicilian blood feel for everything related to the hearth. And Guy didn't exaggerate a bit. His residence is spacious and comfortable. For what he told us while we were having lunch at a café in the marina, he likes to lock up himself with his friends and family and forget about the world.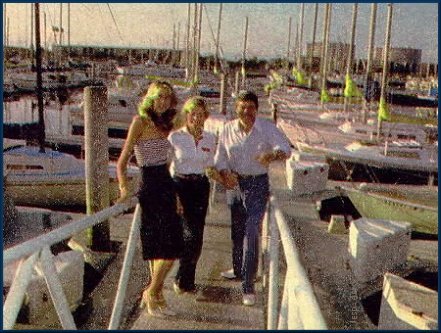 His wife greets us and announces we are in luck. Guy is at home because his luxurious boat is being repaired and painted. Only under these circumstances he would be at home on such a sunny and beautiful Sunday. To the sound of our voices, a 19 year old girl comes out. It's Toni, Guy's daughter, who proceeds to tell us she is upset she couldn't go with her parents to Argentina. Behind her is Williams. He says hello and explains his fears about letting Toni go to Buenos Aires. "If I let her go to Argentina," he explains laughing, "we'll lose her. She'll fall in love with the country and she'll never come back to the United States." "But dad," answers Toni. "You've promised me a trip to Argentina and I know you're going next October and next January."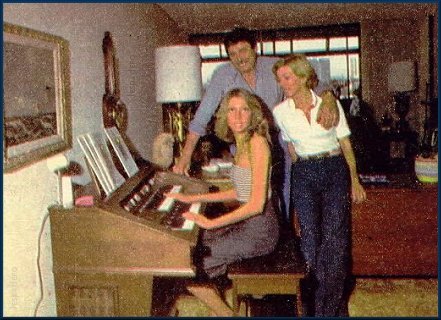 Guy, is it true what Toni is saying?
"I prefer not to say anything about it at this time." Janice lets us know her husband is about to sign a contract to make a movie in Buenos Aires. Guy prefers not to say anything until everything's finalized. Anyway, we at least know that project is in October.
How about January? What is your motive to go back to Argentina?
"Mar del Plata, my friend, Leon, Mar del Plata. I'll explain. They've invited me to work on a summer show in that beautiful city. It is almost sure that I will go."
Can you give us a hint?
"I'll only tell you it'll be under a tent. You can find out the rest." A hint that the trip is more than possible comes from Janice when she says "Guy has already an association with the nautical club in Mar del Plata. He would like to take advantage of the month he'll be working there to go sailing." When she is warned that she has committed an indiscretion, she can only laugh. Guy changes the subject, inviting us to tour the facilities of his residence. He promises us a gastronomic surprise at the end. As we walk through the house we exchange with him some opinions about the United States. His sense of humor comes back. "The only thing I have to complain about your magnificent country is that highways don't have an exit to San Isidro." **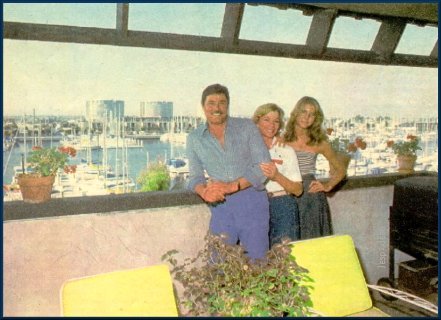 But soon the conversation becomes serious again as he reflects on Argentina: "I've been in many countries. I'm a passionate admirer of Italy, but the only country I would leave the United States for is Argentina."
What do you like the most about our country?
"Everything. I like everything. The people are wonderful; the places to eat are without comparison. The clothing stores are comparable to stores in main European cities."
Before or after you gain 7 kilos?
Before boys. I already told you I lost that weight and shirts fit me perfectly again." Actually this comment comes at a very bad time. A dish which has as its main ingredient Italian provolone cheese injected [marinated] with the best whiskey is waiting for us. "This is a ritual in our home," says Guy, "this preparation of these cheeses learned from ancestors in Italy. Also it is like a ceremony when we eat it because we only eat them when we're among friends."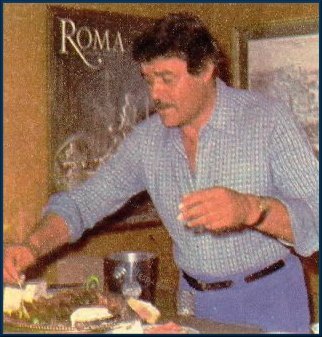 "My children have inherited this custom and they work hard not to disappoint people when they ask them to come to the house to eat." Guy's words fill us with satisfaction. Being welcomed this way in a strange country pleases us and we are committed to compensate for this attention. From the moment we left Williams' home, Urteaga the photographer and I started planning how to entertain Guy and his wife when they come back to visit our country. And we are convinced we'll see each other again in October.
** Translation Note: San Isidro is part of greater Buenos Aires. It lies to the north of the city on the Rio de la Plata estuary. Featuring a modern racetrack, it is also known as a resort for yachting, among other things. San Isidro is also the name of a yachting (nautical) club of some renown.
This article comes from the Argentine magazine Radiolandia 2000 dated September 16, 1977. Le\n Balta, reporter; JosJ MarRa Urteaga, photographer
(Article and photos courtesy of Authoress J. Espadero, all rights reserved.)